We are excited to share that our very close friend and client officially closed on his purchase of 27 Somerset Place, Novato! 
Due to our affiliation with Homes for Heroes, he received a check in the amount of $5,040.00 shortly after closing, sourced from our gross earnings of this transaction. This check is our way of honoring his past service in the United States Air Force and we are thrilled to offer this added bonus as a thank you to the heroes of our nation that we are fortunate enough to serve.
This transaction was again a great example of why it is so important to work with an agent and lender who understands what it takes to get a purchase offer accepted and successfully closed in today's ever-changing and still competitive market. 
Here are just a few of the successful key factors that were in play for this transaction:
From the very beginning, we established a strong relationship with the seller's Realtor and made sure to communicate often.  We worked closely and took the time to listen to the needs of the agent, and her client, and establish what the driving forces behind the sale were. This helped us tailor our offer accordingly which ultimately benefited both parties and led to our offer being accepted against five others. 

Working with the right lender was key! Our client was pre-approved with Mike Belfor @thebelforteam who is a very reputable lender in the Marin County real estate community. Mike and his team were able to offer a quick 15-day close. A Homes for Heroes affiliate himself, Mike was also able to provide our client with benefits. 

We put in the leg work, literally! We took the time to drive the comps, and walk the neighborhood several times to establish the true price of this home to ensure our client would not be overpaying. This led to a smooth appraisal process and overall closing. Fortunately, the sellers had already prepared disclosures, and all necessary inspections were conducted by reputable inspectors we had dealt with before so we were able to waive inspection contingencies upfront. 
Our client and friend also deserves a large applause for being fast-paced, and decisive during a time when the market requires quick decision-making. Although the real estate market is changing, the market is still competitive.
We put a lot of time and effort into each transaction in order to ensure our clients come out on top. Bottom line is, who you work with matters. 
Interested in learning more about our Homes for Heroes affiliation? Visit: http://torbenandalicia.com/homes-for-heroes/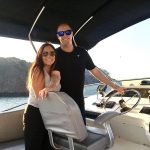 _____________________
📲(415) 259-8088
⌨️torben@thriveinmarin.com
💻www.thriveinmarin.com
Torben Yjord-Jackson – Realtor
License # 02050831
Alicia Magdaleno – Realtor
License # 02065283
_____________________