Welcome to West Shore Road of Belvedere, an exclusive and private waterfront neighborhood offering unique resort-like living perched immediately on Richardson Bay. West Shore Road consists of 49 or so homes, most of which have docks, all situated on a road with a single entrance and exit resulting in very little traffic.
Homes along West Shore Road benefit from expansive views of the San Francisco Bay, Marin Headlands, Golden Gate Bridge, Mount Tamalpais, and the San Francisco Skyline, creating the perfect backdrop for outdoor living and family gatherings. With almost every home accompanied by a private dock, the West Shore community offers you the chance to have all your water toys right at your fingertips. As a client of ours states, we love having the ability to impromptu board our boat and head into the City or over to Sam's Anchor Cafe for dinner.
We love that West Shore offers so much peace and tranquility, while still maintaining walking distance to town, and the local yacht and athletic Clubs. Although somewhat separated from the majority of the hustle and bustle of town, walking is so easy to enjoy the numerous boutique shops, restaurants, wine rooms, and bars, all idyllically peppered along Main Street, and the Historic Ark Row.
Here are a few quick footnotes which are helpful if considering buying a home on West Shore
Top-rated public school district: The Reed School District is rated as one of the top public school districts for K-12 in the United States. This is the school district that Torben was brought up in. In the event you would like to have your children attend private school, you have plenty of options throughout Marin and San Francisco, including Saint Hilary School in Tiburon.
Easy commute to San Francisco
Walk to the Downtown Tiburon ferry terminal for your ferry ride between Tiburon and San Francisco's iconic Ferry Building located on San Francisco's Embarcadero. The ferry schedule can be viewed via this link: https://www.goldengate.org/ferry/route-schedule/tiburon-san-francisco/
PS: Want to take advantage of a boutique ferry service? Check out Tideline Marine Groups' late-night service between Tiburon and San Francisco: https://tidelinetickets.com/tiburon-late-night/
If you prefer to drive into San Francisco as opposed to taking the ferry, here are some quick generalizations as to what your drive time looks like from West Shore to the following areas during your average morning commute:
The Presidio: 20 minutes

Financial District: 35 minutes
Yacht clubs, social clubs, and athletic Clubs: If you and your family are boaters, you will likely want to join one of the two yacht clubs that grace the Tiburon and Belvedere waterfront. Not only are these excellent locations to store a boat once you have worked through the waiting lists, but they are great clubs to make new friends of all ages. The San Francisco Yacht Club has a great youth sailing program which is where Torben learned how to sail, and where we are members today.
If swimming, exercising in a gym, or tennis is more your style, check out the Tiburon Peninsula Club, and or the Belvedere Tennis Club.
World-class restaurants, and bars
From Italian, American, Seafood, Mexican, wine bars, traditional bars, and more, you have some great options, including Chef Michael Mina's new restaurant, Bungalow Kitchen!
Spectacular hiking, walking paths, and bike paths
Another benefit to living life on the West Shore is being in such close proximity to an amazing network of hiking trails, walking paths, bike paths, and the historic Angel Island State Park. Living on the West Shore truly allows you to have a never-ending chain of things to do, which you and your family will appreciate.
We hope this article helps you envision what life is like on the West Shore. If you are considering buying or selling in Tiburon, Belvedere, or any of the surrounding areas, we would love to have the opportunity to work with you. Although Alicia and I live a few minutes away in Sausalito, we work and play in Tiburon daily, and know the area and its real estate market very well.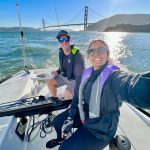 _____________________
📲(415) 259-8088
⌨️torben@thriveinmarin.com
💻www.thriveinmarin.com
Torben Yjord-Jackson – Realtor
License # 02050831
Alicia Magdaleno – Realtor
License # 02065283
_____________________