One of our favorite days and favorite traditions, Opening Day on the Bay is something we look forward to all year long. The tradition started back in the 1800s when the Belvedere houseboats, also referred to as "arks," made the move from their winter positions on the Belvedere Lagoon to the beautiful Belvedere Cove where they would anchor up for the Summer. 
Opening Day was the day in which the drawbridge on Beach Road and Main Street would open and allow the arks and the boats to pass through. Eventually in 1917 the Pacific Inter-Club Yacht Association (PICYA) started an annual celebration called Opening Day. 
In 1963 the Corinthian Yacht Club added the Blessing of the Pleasure Craft to Opening Day festivities. The CYC now anchors a "Blessing Vessel" right  in front of the Club. On board the blessing vessel are clergy of different faiths who bless all boats and boaters for the coming season.
It was so much fun to see all of the boats decorated and participating in the boat blessing and parade. We loved being able to share this awesome local experience with our close friends and family.
Check the short reel we put together to get a glimpse of all of the boats that participated: https://www.facebook.com/thriveinmarin/videos/4843299399100859/?fs=e&s=cl
_____________________
📲(415) 259-8088
⌨️torben@thriveinmarin.com
💻www.thriveinmarin.com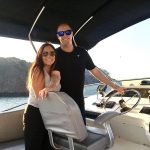 Torben Yjord-Jackson – Realtor
License # 02050831
Alicia Magdaleno – Realtor
License # 02065283
_____________________