Welcome to Mar East Street, a private one-way street perfectly situated along the Tiburon Peninsula in Tiburon, California. Many of the homes along Mar East are literally situated above the water on piers, offering residents an unimaginable lifestyle that can not be compared. Homes along Mar East benefit from close proximity to downtown Tiburon, and world-class views of the San Francisco skyline, Golden Gate Bridge, Angel Island, and the action accompanied by Raccoon Straits.
Check out our Mar East Neighborhood Feature Video: https://youtu.be/3Ru1mK7scFw
Walkability into downtown Tiburon is fantastic, being only a half mile away. Residents of Mar East can live in a private environment away from the hustle and bustle but can enter whenever they choose. Downtown Tiburon has a lot to offer in terms of restaurants like Michael Minas Bungalow Kitchen, and the iconic Sam's Anchor Cafe. Downtown and the historic Ark Row are also accompanied by small boutiques, wine tasting rooms, art galleries, and other dining establishments.  For commuters or those looking to adventure, a ferry terminal will deliver you to the Ferry Building along San Francisco's Embarcadero or you can hop on the ferry and head to historic Angel Island State Park for a day on the island.
As an added bonus, Mar East Streets zoning consists of single-family and multi-family homes so many different types of housing options are available, but inventory stays consistently low. Although the housing stock is a mix of single-family homes and multi-family homes like duplexes and fourplexes, the neighborhood has stayed charming, and aesthetically appealing. 
Whether you live directly on the water or on the other side of Mar East you are almost guaranteed to have a special view. Imagine sitting on your deck with family or friends as the sun sets outside of the Golden Gate Bridge and a sailboat comes cruising right off your deck. That's what living along Mar East can be like! Wildlife is abundant, and you can regularly watch seals, herons, harbor porpoises, the occasional whale, and pelicans skimming the water.
Here are a few quick footnotes which are helpful if considering buying a home on West Shore
Top-rated public school district: The Reed School District is rated as one of the top public school districts for K-12 in the United States. This is the school district that Torben was brought up in. In the event you would like to have your children attend private school, you have plenty of options throughout Marin and San Francisco, including Saint Hilary School in Tiburon.
Easy commute to San Francisco
Walk to the Downtown Tiburon ferry terminal for your ferry ride between Tiburon and San Francisco's iconic Ferry Building located on San Francisco's Embarcadero. The ferry schedule can be viewed via this link: https://www.goldengate.org/ferry/route-schedule/tiburon-san-francisco/
PS: Want to take advantage of a boutique ferry service? Check out Tideline Marine Groups' late-night service between Tiburon and San Francisco: https://tidelinetickets.com/tiburon-late-night/
If you prefer to drive into San Francisco as opposed to taking the ferry, here are some quick generalizations as to what your drive time looks like from Mar East Street to the following areas during your average morning commute:
The Presidio: 22 minutes

Financial District: 37 minutes
Yacht clubs, social clubs, and athletic Clubs: If you and your family are boaters, you will likely want to join one of the two yacht clubs that grace the Tiburon and Belvedere waterfront. Not only are these excellent locations to store a boat once you have worked through the waiting lists, but they are great clubs to make new friends of all ages. The San Francisco Yacht Club has a great youth sailing program which is where Torben learned how to sail, and where we are active members today.
If swimming, exercising in a gym, or tennis is more your style, check out the Tiburon Peninsula Club, and or the Belvedere Tennis Club.
World-class restaurants, and bars
From Italian, American, Seafood, Mexican, wine bars, traditional bars, and more, you have some great options, including Chef Michael Mina's new restaurant, Bungalow Kitchen!
Spectacular hiking, walking paths, and bike paths
Another benefit to living life on Mar East Street is being in close proximity to a fantastic network of hiking trails, walking paths, bike paths, and the historic Angel Island State Park. Living on the West Shore truly allows you to have a never-ending chain of things to do, which you and your family will appreciate.
We hope this article helps you envision what life is like along Mar East Street. If you are considering buying or selling in Tiburon, Belvedere, or any of the surrounding areas, we would love to have the opportunity to work with you. Although Alicia and I live a few minutes away in Sausalito, we work and play in Tiburon daily, and know the area and its real estate market very well. Torben grew up along Paradise Drive in Tiburon, just 5 minutes away from Mar East.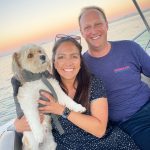 _____________________
📲(415) 259-8088
⌨️torben@torbenandalicia.com
💻www.torbenandalicia.com 
Torben Yjord-Jackson – Realtor
CA License # 02050831
WA License # 22013848
Alicia Magdaleno – Realtor
CA License # 02065283
_____________________