After investing in self-storage and other income-producing properties like duplexes and 4-plexes, Alicia and I determined it was time to diversify, so we have now jumped into short-term rentals. Our entrance into STRs also sparked clients' curiosity so we figured it was a great subject to discuss.
Short-term rental properties can be an excellent investment pending you conduct diligent research, and find a destination that has a regular flow of travel. Some owners of short-term rentals also find joy in the fact they can enjoy their investment when availability exists.
Although short-term rental properties appear to be a romantic investment to own and manage, they can be a lot of work and oftentimes best managed by professional management companies. Of course, that is, unless you find joy in the management of a property and have the ability to be attentive to your guest's needs. 
Key factors to consider
Location:

The adage of location, location, location remains true today. Invest in a well-established market that people want to travel to, especially on a year-round basis, or at least a destination with as little a shoulder season as possible. Focus on a market that can produce a great annual return, and has a historical tendency to appreciate. Except for special circumstances, we encourage you to invest within walking distance to amenities like restaurants, attractions, and the action.
Amenities:

We have determined that the most successful short-term rental properties make a point to offer an abundance of amenities. For instance, a kitchen is key, especially in a market where travelers often stay for a week or two at a time. Some markets like Maple Falls, WA essentially always require a hot tub to be competitive. Wine country homes along or near the wine trail in Napa County benefit greatly from having bikes for guests. For urban environments, being able to offer a parking space is a huge differentiator. For condos' in Waikiki, HI, a unit with a Lanai and a kitchen seems to rent 25% above those without. Whatever you can do to differentiate and add value will help your STR stand out from the crowd.
Supply and demand:

Determine through research how large of a demand exists for another short-term rental and what the current supply looks like. You can check bookings on Airbnb and VRBO, or check availability at local hotels, motels, and B&Bs to determine what type of occupancy rate you can expect. We have also found the local Chamber of Commerce to be helpful in establishing demand, and in defining a region's peak travel season. This is also a good time for you to identify what your occupancy rate will be, and what fee you could likely charge for the nightly rental of your property.
Operating expenses:

Operating expenses include marketing and advertising, property management, maintenance, insurance, taxes, utilities, and mortgage payments. Keep in mind that some areas will require additional expenses to be factored in like snow removal, or homeowners association fees. 

NOI (Net operating income):

Calculate your net operating income by subtracting your operating expenses from the gross revenue generated by the property.

Check the local and homeowners association rules (if applicable):

Some governing agencies do not allow short-term rentals, or have restrictions that limit the amount of short-term rental permits issued. For example, the City of Seattle in Washington no longer allows floating homes or houseboats to be rented out for a period of fewer than 30 days. Another example would be Placer County in California capping North Lake Tahoe's short-term rental permits at 3,900 which equates to about 25% of the housing stock. If you choose to purchase a property within a homeowners association, it is not uncommon for the association to not allow short-term rentals so make sure to read the most current copy of CC&Rs. To be extra certain, speak with the association manager and get the question to your answer in writing.
What makes a good rental investment?
Location is key, but cash flow is equally important. So, find a good property in a good location, in an area that historically appreciates, and that cash flows well. Typically, we target anything that can produce a 5% – 6% cap rate or higher in areas of high appreciation.
How can I maximize my short-term rental?
Once you have a property locked down and purchased, make sure to do the following:
Your unit should include clean and modern furnishings

The unit should be well stocked with items a traveler would need when away from home. Make sure the kitchen is stocked with pots, pans, other cookware, and silverware. Your bathroom should offer ample towels, and consider offering unique soaps and other relevant items.

Guests want a memorable experience, and to know they are appreciated. So do not hesitate to go above and beyond and offer extra amenities like bikes, kayaks, beach chairs, etc… We also make a point to have each unit accompanied by a guest resource book that outlines emergency contacts, check-in/out instructions, categorized listings for local restaurants, nightlife, experiences, etc…
If you are in the market for a short-term rental investment property or want to learn more, get in touch with Alicia and me and we will be happy to help! We have personal experience investing in short-term rentals and have also represented plenty of buyers and sellers of short-term rental investment properties.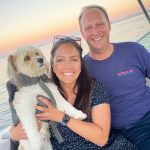 _____________________
📲(415) 259-8088
⌨️torben@thriveinmarin.com
💻www.thriveinmarin.com
Torben Yjord-Jackson – Realtor
CA License # 02050831
WA License # 22013848
Alicia Magdaleno – Realtor
License # 02065283
_____________________